SGO Technology
Right Brain, Meet Left Brain!
Design software that will take your breath away!
Many of our franchisees are not artists, but rather business people who have a creative side they have always harbored but never had a chance to nurture. Our design software will help you build a business that is as beautiful as it is successful!
SGO DESIGNER GLASS is the only nationally and internationally branded decorative glass franchise in the world. With nearly 30 years of research into the technology of designing glass our systems are unbeatable. Our customers like to see before they buy, to picture their glass before it is constructed in the convenience of their own home, on their own windows. Our easy-to-use, intuitive software allows you to bring these designs to life to exact scale, so even the smallest details of your masterpiece appear.
SGO DESIGNER GLASS Offers A Unique "See It Before You Buy It" Software.
You begin with a blank slate and can create decorative glass designs from digital pictures, scans from books or use the SGO Design Library. Since all of our franchisees use the same software to create designs, any time a new design is created it can be uploaded for the benefit of the network. This dynamically growing collection allows you to effortlessly show your customer thousands of designs. Each design is grouped by logically for ease of presentation.  Want to see how the design would look with different colors? It's easy to change the colors or styles in seconds.
The SGO DESIGNER GLASS Design Software Offers These Advantages and More!!
We provide you with all the design software tools you need to be a successful franchise.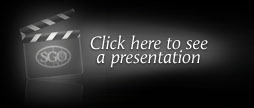 In Business For Yourself, Not By Yourself