SGO Marketing
Look around you. Glass is everywhere!
SGO has 3 marketing channels that you will actively develop using our methods and marketing materials that are tailored to fit each of these markets.
These channels are:
Businesses that use glass in their projects such as:
Kitchen Cabinet dealers
Bath and Shower Enclosure dealers
Glass & Mirror Retailers retailers selling non decorative plain glass
Door Dealers
Window Dealers
Designers
Architects
Residential Homeowners
Religious Organizations
Comprehensive, results-driven marketing drives profitable opportunities
SGO Designer Glass works with franchisees to develop custom, comprehensive marketing plans that attract both residential and commercial customers, gain profits and build loyalty. We have multiple ad-slicks that are available free of charge to our franchisee to create customized professional advertisements:
Print advertising
As the WORLD'S ONLY national and internationally branded decorative glass franchise, SGO has the power to maximize national print and collateral advertising. Customizable, response-driven postcards and flyers drive local leads & deliver effective ROIs.


Brochures
Stylish and strategic brochures assert SGO's leadership position while defining a lifestyle voice and identity.
Electronic Marketing
From sophisticated search engine optimization strategies, web-wide Pay Per Lead (PPL) advertising campaigns and personalized, permission-based email marketing, our electronic marketing experts leverage technology to make your phones ring.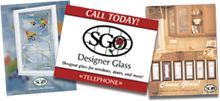 Signage
Studio signage, lawn signs, and other branded items reinforce brand recognition.

Public and Media Relations
Our team of professionals work with national and local media outlets to create exciting promotions, promotional pitch editorial opportunities and position SGO Designer Glass as THE decorative glass experts. You can see our work on HGTV, TLC and many other channels. Some of our placements include Extreme Makeover Home Edition, While You Were Out, Curb Appeal, Kitchen Trends, Save My Bath and many others.
Outbound Calling & Appointment Setting Team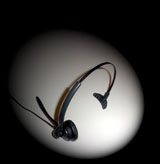 We have an in-house appointment setting program available for our franchisees. You have the option of having all of your business to business appointments set for you by our support team. We set the appointment, you show up and build the relationship!
Many of our franchisees love building their designer, architect, window, kitchen, bath, glass, and other showroom relationships through our 'satellite appointment setting service'. This program is great for the franchisee who loves creating new relationships for their business, but hates to cold call.