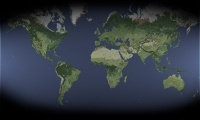 Facts About SGO
Celebrating nearly 30 years in franchising - SGO Designer Glass is in the business of working with entrepreneurs to "Design a New Life"!
We are a full service architectural art glass business with nearly 300 locations in 37 countries around the world. We provide our B2B and residential clients with a full array of custom decorative art glass. We are the only business of our kind in the world & you may have seen our work on TV programs, in many residences, places of worship and commercial establishments. If you have ever wondered where that beautiful decorative glass you are looking at came from - chances are it came from an SGO franchise location!
Questions and Answers
What kind of business background do I need?
Successful SGO owners come from all walks of life. Some have extensive business backgrounds, some have served in the military, and some have never run a business before. If you work well with people, and are passionate about building a business that is both financially rewarding and provides time to enjoy the fruits of your hard work, SGO Designer Glass could be for you.
What will I be doing
The key to success in your SGO Designer Glass franchise is to properly manage and market your business. Our aim is to become the decorative glass resource for every market that we serve providing other business owners, residential buyers and religious groups with their one stop source for decorative glass. We'll teach you how to properly recruit, train, and motivate good employees, who are the key to your success.
We have an in-house appointment setting program available for our franchisees. You have the option of having all of your business to business appointments set for you by our support team. We set the appointment, you show up and build the relationship! Many of our franchisees love building their designer, architect, window, kitchen, bath, glass, and other showroom relationships through our 'satellite appointment setting service'. This program is great for the franchisee who loves creating new relationships for their business, but hates to cold call.
What are the businesses I will work with?
A partial list involves the following:
1. Kitchen Cabinets
2. Bath and Shower Enclosures
3. Glass & Mirror Retailers (not Auto Glass, but some do both!)
4. Door Dealers
5. Window Dealers
6. Designers
7. Architects
8. Builders
Do you have special software to help me run my business?
Yes! The SGO design software is an award winning suite of programs that allow you to design custom decorative glass from just about any source - and show it to your customer before any work happens! CLICK HERE TO SEE THE SOFTWARE IN ACTION!
How do you help me get started?
The SGO Designer Glass Start Up program provides you the tools you need to get your business started well. We take you step-by-step through everything from studio site selection to placing your first ads. During Discovery Day we will take you on a detailed tour of the entire program, so you can see for yourself how complete it is.
What ongoing support can I expect?
SGO Designer Glass provides a broad range of support tools to help you make the most of your business. Our start up team provides telephone support supplemented by on-site visits and regional meetings. We provide extensive written materials, audio tapes, CD's, and an intranet communications system to help you and your team stay properly trained. A significant part of Discovery Day is devoted to explaining our complete support system and answering your questions.
What if there is already a SGO Designer Glass franchise in my area of interest?
There are open territories in virtually every city in the United States. If there appears to be a SGO Designer Glass franchise already in your area, give us a call. Since most metropolitan areas can support several SGO DESIGNER GLASS franchises, there is a very good chance that a territory is still available near you.
Do you ever have operating franchised businesses for sale?
If you're interested, give us a call. When available, we connect potential buyers with SGO Designer Glass franchise owners who desire to sell a portion or all of their franchised business.
How can I learn more about SGO Designer Glass?
The best way to learn about SGO Designer Glass is to give us a call and have us schedule you for a no pressure, informative and fun web presentation on what we do!